The Puffin in Tree World can be recieved through trade or when you buy the Vita Gems package for £2.99 ($ 4.99).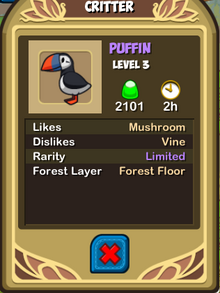 Name - Puffin
Type - Critter
Likes - Mushroom
Dislikes - Vine
Rarity - Limited
Forest Layer - Forest Floor
Price - £2.99 ($4.99) Vita Gem package
Scientific Name - Fratercula arctica
Puffins are diving seabirds that are good at catching fish. It is commonly thought that puffins are related to penguins, this is actually not true. They are known for their brightly colored beaks.
| Levels | Food Production |
| --- | --- |
| Level 1 | 1313/2hours |
| Level 2 | 1642/2hours |
| Level 3 | 2101/2hours |
| Level 4 | 3414/2hours |
--Hyradar 13:04, July 9, 2012 (UTC)